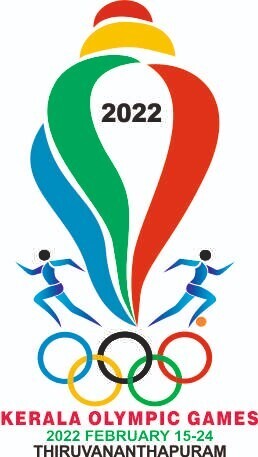 KERALA OLYMPIC GAMES 2022
[February15th- February24th]
As our effort to bring back the sports activities in this state, after the setback of Covid-19 pandemic Kerala Olympic Association propose to conduct, Kerala Olympic Games-2022(KOG-2022) from 15th-24th Feb 2022 at various prominent venues in the Capital City of Kerala, Trivandrum. 24 different disciplines have been scheduled as part of the 1st KOG 2022, and it is expected that around 10, 000 sports persons be participating in this maiden event.
Athletics -University Stadium-Feb 22, 23, 24


Archery-Thycaud Stadium-Feb 15, 16, 17


Swimming-Pirappanpode Swimming Pool-Feb 18, 19, 20


Badminton-Jimmy George-Feb 15, 16, 17, 18


Boxing -Kanakakunnu-Feb 15,16,17,18,19


Basketball- Central Stadium -Feb 15,16,17, 18,19


Cycling-Road (Kovalam Bypass)-Feb 21


Judo -Central Stadium-Feb 23,24


Hockey-Kollam Hockey Stadium-Feb 18, 19, 20


Handball-Jimmy George-Feb 19, 20, 21, 22


Football-Maharaja's College Eranakulam & Sports Academy Ground Eranakulam -Feb 15,16,17,18,19


Kho-Kho-Sreepadham,Attingal-Feb 17, 18


Kabaddi-Kasargode-Feb 18, 19, 20


Karate-Kanakakunnu-Feb 20, 21, 22


Netball-LVHS Pothencode-Feb 16, 17, 18


Rugby-Chandrasekharan Nair Stadium-Feb 23, 24


Vollyball-Kanjanghad-


Weightlifting-St. Joseph's School, TVM-Feb 17, 18


Wushu-Jimmy George -Feb 23, 24


Table Tennis-YMCA-Feb 16, 17, 18, 19


Tennis-TTC-Feb 20, 21, 22


Taekwondo -Central Stadium-Feb 20, 21, 22


Rifile-Vattiyoorkkavu Shooting Range- Feb 16, 17


Wrestling-St. Joseph's School, TVM-Feb 19, 20


As part of this sporting event, KOA is also conducting an " Olympic Expo -2022" at the "Kanakakunnu Palace" premises situated in the heart of the City, from "13th to 24th Feb 2022".Sports fest, Flower show, Commercial Expo, Sports Competions, Food Fest, Various Cultural Programes are the main attraction of this expo.
Prior to the State Games, the District Olympic Games will be take place in all the 14th Districts of the state. The winners of this District meet will represent their District in the State Games. In the team events the best selected players will be representing their Districts.
We are sure that both the Kerala Olympic Games and Olympic Expo will provide the sports loving public of the state to enjoy the spotic extravaganza and the expo in a festive mood.
We expect your whole hearted patronage and participation to make this events most memorable.